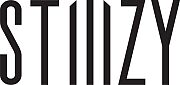 STIIIZY
4.20 ★
INSPIRE. INFLUENCE. INNOVATE.
Premium oils, innovative delivery. Stiiizy has revolutionized portable cannabis enjoyment with a cartridge that delivers a burn and leak-free vape experience. Stiiizy cannabis oils are crafted with solventless extraction, and each product is pure, uncut, and filler-free. Every Pod and Syringe includes the full spectrum of cannabinoids and terpenes derived from the original strain. Innovation and inspiration go hand in hand for Stiiizy, and the team is committed to producing both. Elevate your cannabis vaping experience with a puff of Stiiizy.

After a long research and development phase, Stiiizy was proud to launch the brand in 2017. For Stiiizy, excellence is a requirement and the team would not introduce their product until every aspect was perfect. Their mission is to provide top-shelf, lab-tested cannabis concentrates of the highest potency and purity. Though the dedication of a skilled team of artisan extractors and expert master growers, Stiiizy has set an industry standard.
The quality of the starting material determines the integrity of the final product. Stiiizy utilizes robust cannabis flowers, cultivated responsibly and pesticide-free. Then, those high-quality buds are produced into concentrate with solvent-free distillation process. Terpenes are volatile and are lost during the distillation process, but with Stiiizy, you get the full effects and the full flavor. They reintroduce strain specific terpenes to their cannabis oils to result in a vaping experience that is authentic to the original strain.
Pods are filled with Stiiizy's handcrafted solventless distillate and include 85%+ THC in each. Pods are currently available in Premium Jack, SFV OG, Pineapple Express, and many more.
Stiizy Prerolls are comprised of top-shelf flowers then glazed in their premium distillate and coated in kief. Spark up with any one of their varieties including Blue Dream, Skywalker OG, Hardcore OG, and Gelato.
Enjoy Stiiizy's premium distillate with a dab with their Syringe, available in the same strain varieties as their Pods. Stiiizy's Syringe can be administered into a perfectly heated banger or e-nail, or can be used to twax a joint or preroll.

Stiiizy cannabis oils are full-spectrum lab tested by SC Labs, and results for each of their products can be viewed on their website.